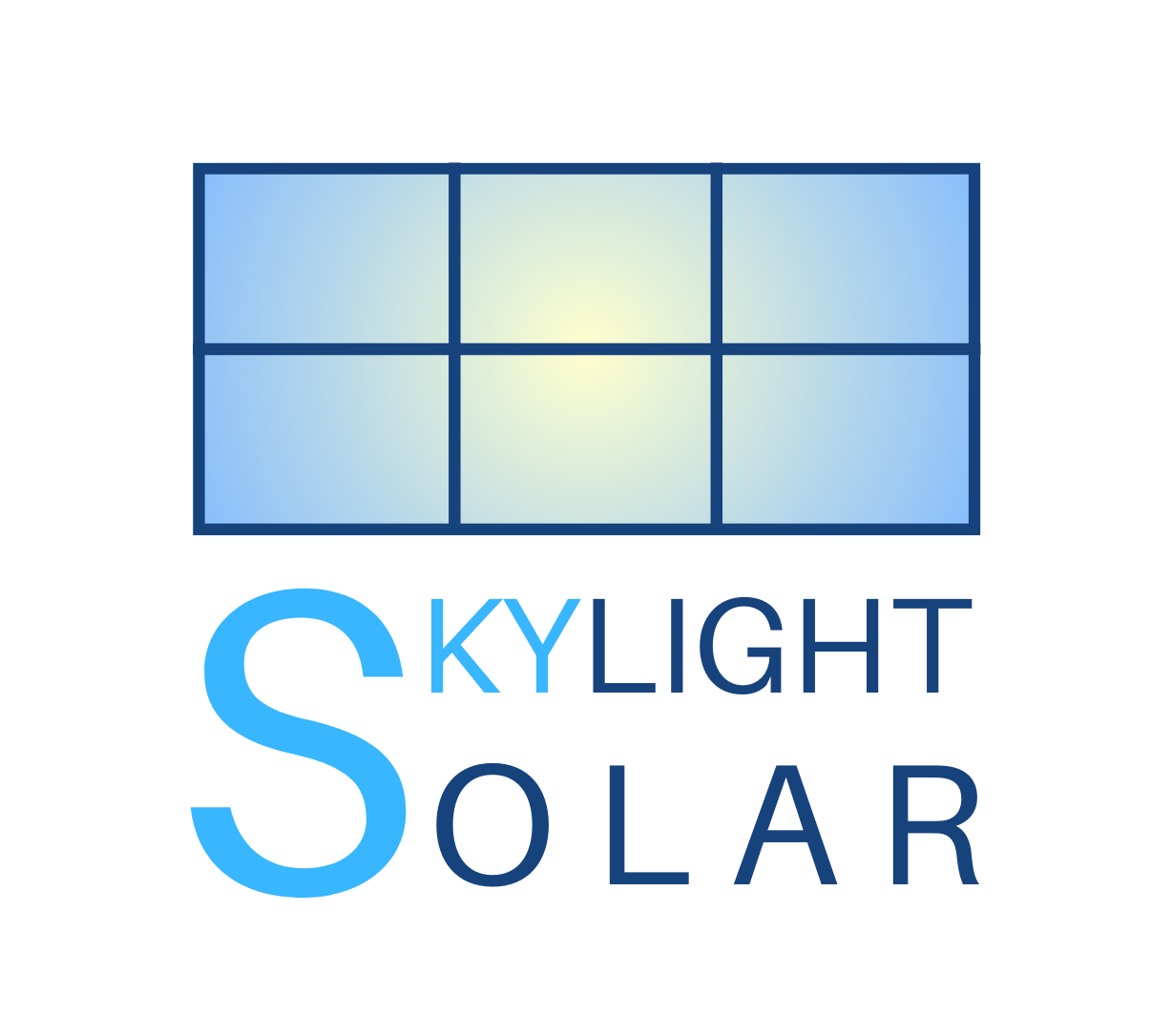 Skylight Solar owns and operates a local solar array situated on top of the closed Hinesburg, VT landfill.
We will start producing power at discounted rates in fall 2023, and are currently accepting new customers. We offer extra incentives for low-income Vermonters.
Subscribers are not locked in, and must be customers of Vermont Electric Coop. Space is limited, so save your spot today!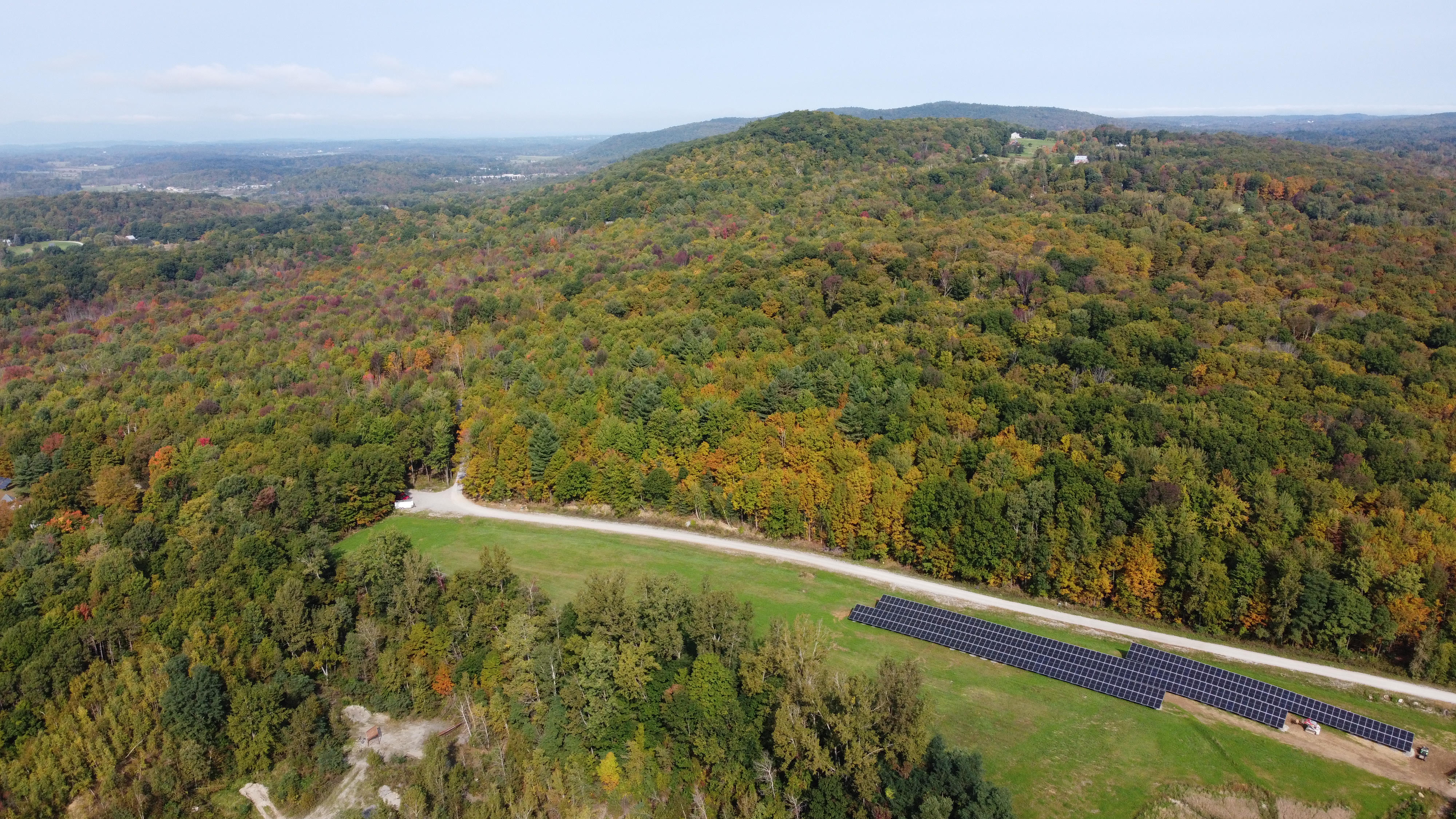 How it works
Sign up below to reserve your spot in the array.
We will make electricity in your name, and bill you less than Vermont Electric Coop does.
No hardware or electrical changes are required. Credits from us will appear on your VEC account.
Median income and above: 10% electric rate discount
Qualified lower-income households: 20% electric rate discount
Electrification Bonus Credits
Additionally, we offer rebates on home and vehicle electrification projects. Simply show us your check from Efficiency Vermont and we'll credit your bill. Limit one per account, while supplies last. Applicable to heat pump water heaters, heat pumps, induction stoves, electric vehicles, electric lawn mowers, and home batteries.
Median income: $250 appliance rebate
Qualified lower-income: $500 appliance rebate
As easy as a monthly subscription
No fees
No down payment or up-front payment
No long-term commitment
No need for a roof or home ownership
F.A.Q.
MEMBERSHIP
🧾 What will my power bill be after I'm subscribed?
The Simple Answer
The power we generate will reduce your VEC bill. In a perfect world, the solar power produced would always meet your needs. In that case, a $200 VEC bill would become a $30 VEC bill and a $153 Skylight Solar bill, totalling $183.
Realistically, solar panels generate more power in the summer months, and little-to-none in the winter months. For that reason, we recommend signing up for enough power to over-produce in the summer — so you "pre-buy" some power. Credits generated in the summer will stay in your VEC account for 12 months.
By looking at your VEC bill, which has your usage history from the past year, we can help you right-size your Skylight Solar generation. Production will likely be within a few percentage points of our estimates.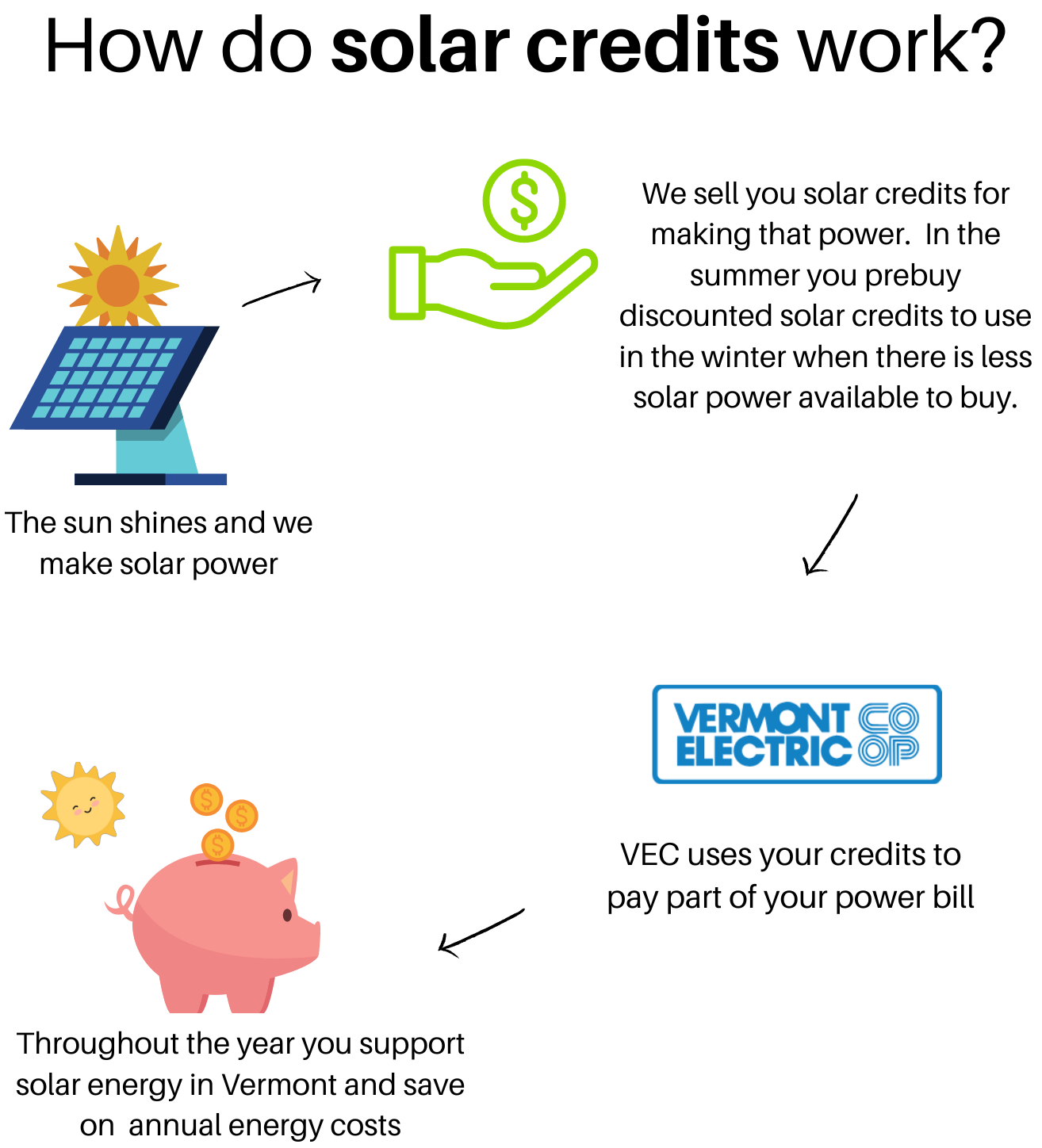 Getting into the Weeds
On your VEC bill there are two types of charges. The 10-20% discount we offer only applies to electric rates (in yellow), and not customer fees.
Credits are accrued as the sun shines - more in the summer, and less in the winter. Over the course of the year, some bills may be higher than they otherwise would be because of peak solar production generating more credits on your account. Averaged over the course of 12 months, you will save at your discounted rate.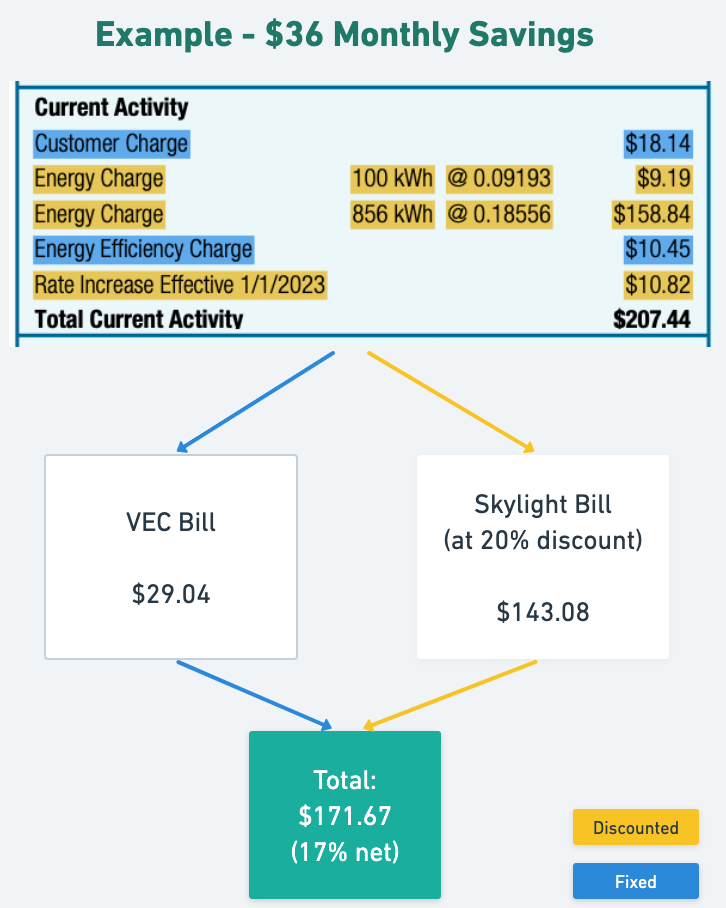 Every month you will receive your VEC bill which will indicate the credits on your account, and a bill from Skylight Solar LLC for the discounted-rate power.
We understand that sometimes it's difficult to pay for extra credits you won't need for another six months. Contact us for extended payment periods on summertime costs higher than your nominal bill.
No hardware changes are required.
👌 How do I qualify for 20% discounted power?
To qualify for the higher discount, you must be at or below 80% Area Median Income. This will be verified by our banking partner.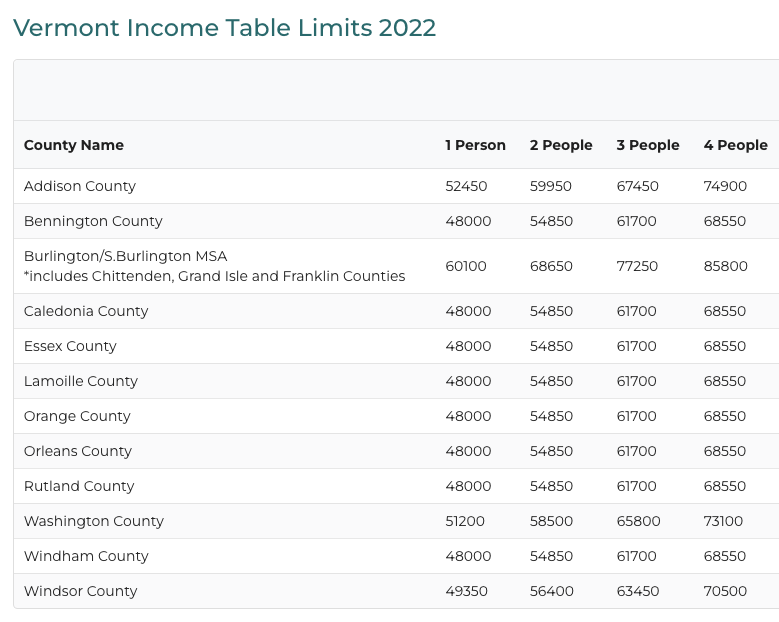 ⚡️ Can I sign up if I'm not on Vermont Electric Coop?
We currently only can serve VEC customers. However, we have more projects being planned. If you'd like to get on the waitlist, please feel free send us your info with the blue box above.
📍 How can I tell if I'm a Vermont Electric Coop customer?
You can view the interactive map, here. To be sure though, check your electric bill.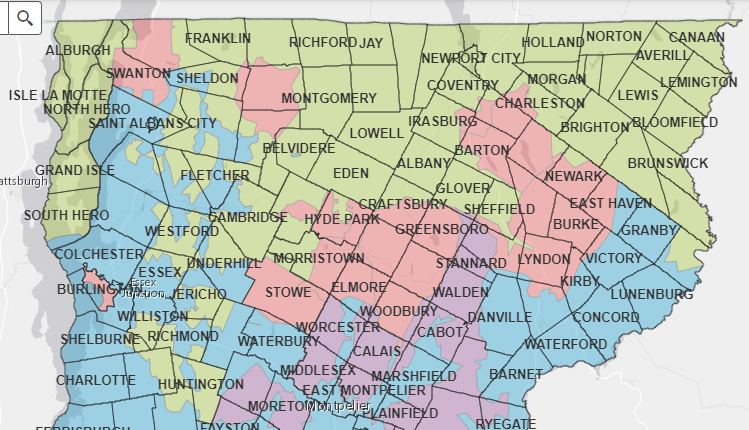 ⏳ When will I start getting bill credits?
The array is currently under construction, and expected to come on line around September or October 2023. You'll start getting monthly bill credits as soon as power is being generated.
🔋 How much power should I sign up for?
When you sign up, you are assigned a certain fraction of the solar array, according to your power needs. If you over-subscribe, you'll pay for solar credits which expire if unused after a 12-month rolling window.
As a rule of thumb, you can look at your bill and sign up for 90% of your past year's consumption, or more if you're planning significant upgrades. If you still have questions, we're happy to help you plan your energy needs.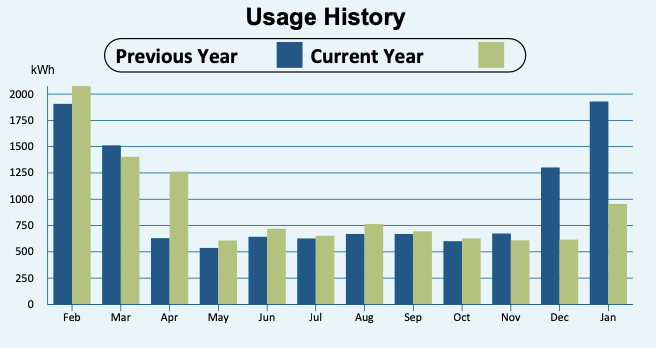 If starting in the winter, don't be suprised if you credits don't immediately cover all of your electric demand. Peak solar production is in the Spring, Summer, and Fall, so it may take some time to build up a reserve of credit.
🌞 Will my house be solar powered?
The power flowing to your house is not the same solar power we generate. As the solar field generates power, it goes wherever it is needed at the time, and you get the credit for it on your VEC bill.
When VEC buys power from us, they also buy (and resell) the right to claim they're solar powered. This means that you cannot also claim that your house is solar powered any more than the average VEC power makeup.
Nevertheless, by working with us you are helping make clean energy possible in New England.
DETAILS
🏘️ Can I subscribe if I'm already a member of another community solar farm?
Maybe.
Unfortunately, Vermont Net Metering law prohibits customers from being members of multiple community solar projects. Renewable Energy Vermont is working actively to update this legislation, and we hope this will change with an update to Vermont's Renewable Energy Standard.
However, we may be able to work with your current community solar provider to exchange customers so that you can increase your solar proportion.
🏠 Can I subscribe if I have rooftop solar?
Yes! Rooftops are installed "Behind the Meter", effectively running your meter backwards when your panels generate electricity. This is compatible with community solar.
⚖️ When would I want community solar instead of rooftop solar?
Unfortunately there are many circumstances when rooftop solar is just not possible - such as too much shade, rooves pointing in the wrong direction, rooves which are not new enough or can't take the load, and so on.
There are some advantages to community solar in not having to maintain your own equipment, manage the install, or pay anything up-front. You can even transfer your power to a new meter within VEC territory if you move. On the downside, you won't own your panels.
👭 Can I refer a friend?
Sufficient participation in both income groups will be necessary for the project to go forward. You're welcome to refer a friend and help us launch without delay!
You can download and share or print the following PDF: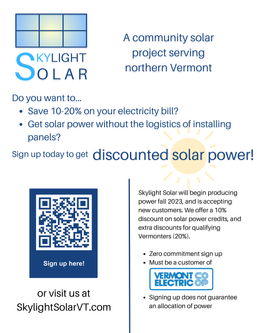 📈 Can I sign up as a business?
Yes, we do accept businesses at a 10% discount rate, so long as the other criteria are met: on VEC territory, and the meter in question is not already enrolled in community solar.
$ Can I purchase my fraction of the array?
We are open to sale of fractions of the array after five years. There would of course still be some fees for lease, taxes, maintainence, etc. Feel free to let us know in the sign up form if you would be interested in purchasing in the future.
💯 Is the 20% discount guaranteed?
We are waiting for our allocation of financing under the IRS. It is our hope that due to this project being quite close to completion and offering good customer discounts, we will be easily selected. In order to offer this discount, at least half the array will need to go towards low-income households.
If the funding does not get awarded, all customers will still be able to receive 10% power discounts. We will try again with a new project, and if successful, we will be able to grant the full 20% discount to existing qualifying customers.
We will know before turning on the array.
ABOUT US
↬ What's the catch? How do you make your money?
When a solar array is constructed, there are two ways to sell the power: either on the wholesale markets, or on the retail markets.
Almost nobody sells solar power on wholesale markets, as it would fetch cents on the kilowatt due to other power sources being highly subsidized.
Vermont Net Metering law is written to support solar arrays by allowing consumers to contract directly with the solar farm, which is what Skylight Solar does. Without this, solar development would not be possible financially.
We are able to sell power to you at below-market rates, while still making enough to pay off the high upfront cost of solar.
🏞️ I have land which could be used for solar. Can you build on it?
If you have 2-10 acres with south-facing exposure (on any Vermont utility), it could be a great location. Feel free to reach out to SkylightSolarVT@gmail.com.
👣 What is the carbon footprint of your solar panels?
While some solar panels are now made in Net-Zero facilities, unfortunately they still come at a premium, and were not selected for this project. However, these solar panels pay off their carbon footprint within about a year or less of operation, and so still have a very positive effect. Some discussion can be found in the F.A.Q. on this post.
Local stone, rather than concrete, is used for ballasting the array.
We use all-electric mowers for cutting the grass around the array. To any local farmers - we're open to the idea of sheep grazing in the area.
👷‍♂️ Who is building the solar array?
We're proud to have Aegis Renewable Energy as our Engineering, Procurement, and Construction partner.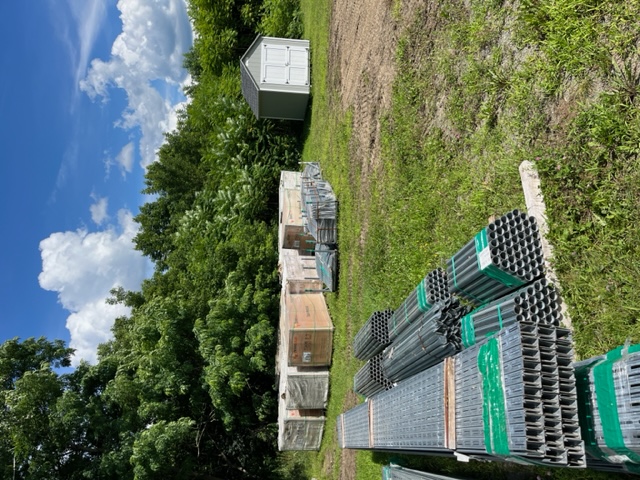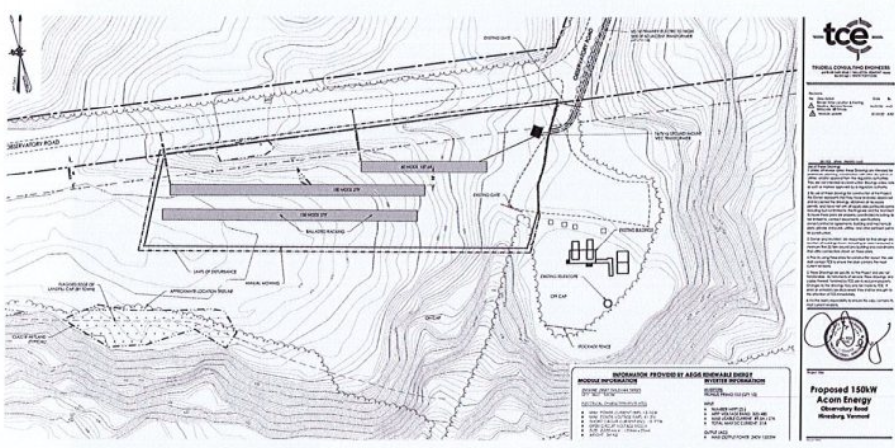 👫 Who is Skylight Solar?
The project is owned and operated by Peter Ehrlich and his partner Sarah King, residents of Jericho, VT. Peter grew up in upstate NY and has a background in software engineering. Sarah grew up in Jericho and teaches math at a nearby school.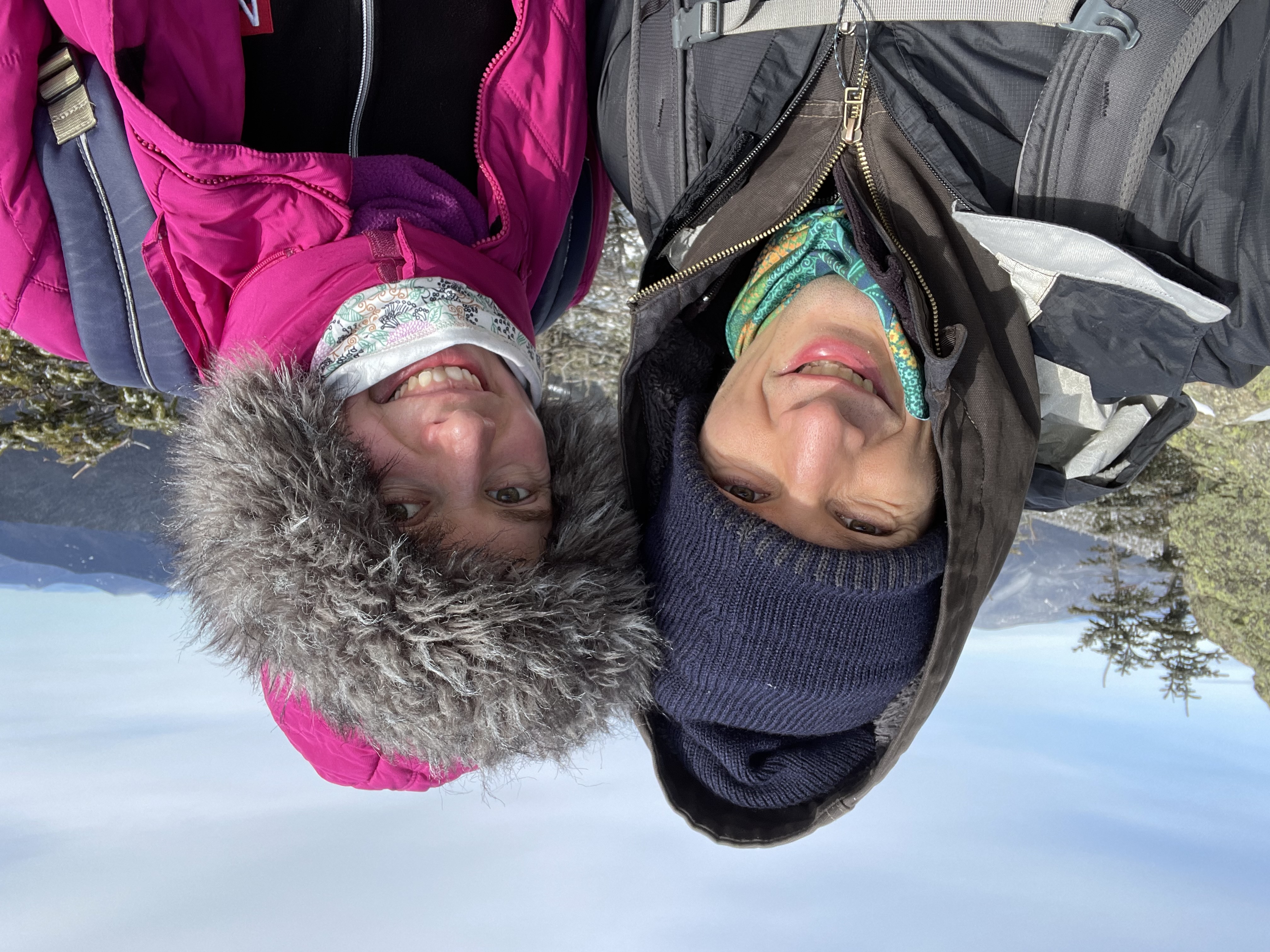 Quitting Fossil Fuels?
Our partners and friends can help you reduce your carbon footprint.
By Zero Carbon Solar LLC DBA Skylight Solar. Signing up does not yet guarantee an allocation of power from the array. Electrification and low-income rebates depend upon available funding, which will be determined before the array is activated.